What Is Chiropractic?
---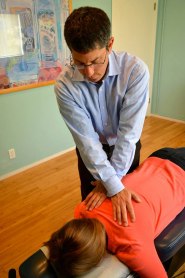 Over a lifetime, a variety of stressors can bring injury to your body, such as poor posture, sedentary lifestyle, sports injury, car accidents, work-related injuries and emotional pressures. These and other factors contribute to health problems.
Chiropractic is a natural way of helping your body heal itself without relying on drugs and surgery. Doctors of Chiropractic are primarily concerned with the correct alignment of your spine.
You may ask, "Why the spine?"
With correct spinal alignment, your nervous system functions at a more optimal level, which leads to increased overall health of your body.
The nerves flow throughout your body. It's no secret that it's all connected!
Chiropractic can help a variety of health conditions, including back & neck pain, headaches/migraines, sciatica/leg pain, shoulder pain, knee pain, scoliosis, numbness/tingling, carpal tunnel syndrome, disc degeneration, pregnancy aches/pains, work injuries, auto accident injuries, and sports injuries.
Dr. Brian Kerner has helped thousands of patients live pain-free.