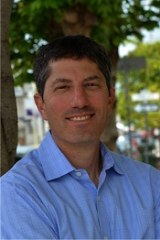 Dr. Brian Kerner
Dr. Kerner earned a Bachelor of Science in Neuropsychology from the University of California at Santa Barbara, and a Doctor of Chiropractic from Palmer College of Chiropractic-West. He is also a Qualified Medical Evaluator (QME) under the Workers' Compensation System.
Dr. Kerner has been in practice for 25 years.
Since he was young, Dr. Kerner has been interested in the benefits of natural health care. Realizing that medicine is "crisis care" and not truly "health care", he wanted to pursue a health career that emphasized the natural recuperative powers of the body. He wanted to treat the "cause" of the body's dis-ease and not merely treat or "mask" symptoms.
By helping his patients naturally, without drugs or surgery, he is able to promote wellness and true health.
Dr. Kerner is an active member of the California Chiropractic Association. He has served as Treasurer for the San Francisco Chiropractic Society.
Dr. Kerner also provides on-site chiropractic care for companies.